---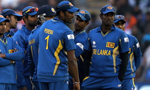 The Tamil Youths and Students Federation and three other groups have demanded that the Sri Lankan cricket team not be allowed to play in India. This is in protest against the recent death sentence on five Indian fishermen on charges of smuggling.

The organisations will submit a petition to Board of Control for Cricket in India (BCCI) officials in Mumbai on Sunday. "We approached the Tamil Nadu Cricket Association officials and explained the issue to them," said V. Prabhakaran, chief coordinator of the federation.

He said the third one-day match between India and Sri Lanka was scheduled to happen in Hyderabad on Sunday and the remaining matches should be stopped.

In their petition the groups have demanded that the Sri Lankan team be barred until the Tamils get justice. "The death sentence awarded to the fishermen, who have been framed, has hurt the Indian fishermen. All Sri Lankan sports teams should be banned from playing India," said T. Subi, president of Future India Party.(The Hindu)