---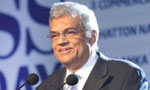 Based on a proposal made by Prime Minister Ranil Wickremesinghe, the Government will in future follow a set of guidelines and laid down criteria on the spending of government funds.

In a letter to the Cabinet on 'Minimizing Waste and Excesses in the Use of Government Funds', the Prime Minister had focused attention on the wasteful spending of government funds on various projects and activities by ministers, state ministers, deputy ministers, all elected people's representatives and Government officials.

He said it was extremely vital to minimize, as much as possible, their foreign trips.

"When undertaking essential foreign visits, only those well acquainted with the subjects to be discussed should be included in the delegation," the Prime Minister said.

He said every effort should be made to reduce the number of security vehicles and security personnel who were assigned to dignitaries and people's representatives.

"These new restrictions in the state sector will also be applied to regional authorities, security forces, state institutions, statutory boards and state-owned companies as well,' the Prime Minister said in his letter.

Meanwhile, the Cabinet has also noted the details of of some 59,160 vehicles belonging to ministries, departments and government institutions and statutory bodies.

Several of these vehicles are reportedly still being used by ministers, deputy ministers, parliamentarians and those who had functioned in various positions under the former government.

The Cabinet decided to instruct ministerial secretaries to take necessary steps to have these vehicles returned without further delay.