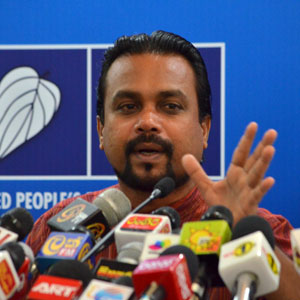 UPFA Colombo district candidate Wimal Weerawansa today alleged that the government was planning to sell the national carrier SriLankan under its restructuring programme.
He told a media conference that separate companies are to be established for ground handling, training of cadet pilots, catering, management and maintenance of the airline.
"The proposed re-structuring will no doubt create the laying off of 6,800 employees directly and 30,000 indirectly. What is most damaging is their decision to sign code-share agreements with other international airlines on profitable air routes. The plan is to sell all these services to private companies," he claimed.
Mr. Weerawansa claimed that all foreign media including the BBC had predicted a clear victory for the UPFA and a UPFA government formed after August 17 would reverse faulty agreements entered by the 'yahapalana' government.
The Financial Crime Investigation Division (FCID) which was in a subdued mode during the past few weeks has sprung into action again with the election day approaching and it was likely that a few arrests would be made in the next few days on the instructions of Health Minister Rajitha Senaratne.
(Sandun A. Jayasekera)

WATCH