---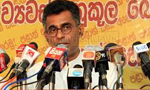 Jathika Hela Urumaya (JHU) General Secretary Champika Ranawaka said today the government had no right to talk about war crimes because the Maxwell Paranagama Commission had been empowered to probe war crimes following an announcement by Presidential Secretary Lalith Weeratunga.
"We will not allow any international probe. We will allow for a domestic probe, if there are allegations of war crimes. We are very clear on that point," he said.
Mr. Ranawaka said the Government had isolated and betrayed the security forces at the UNHRC and said the President, the External Affairs Ministry, and its Monitoring MP must be held responsible for this state of affairs.
"We had a two-thirds majority at the UNHRC in 2009 with 29 votes in favour and 15 against but this was allowed to change much to the embarrassment of the country and the security forces," he said.
He said the Government had appointed five foreign experts to the Paranagama Commission that was set up to inquire into disappearances and urged the government to reveal why it had appointed them and what was being investigated by this Commission.
"Maithripala Sirisena's policy underscores the fact that if there are allegations of war crimes against any officer of the armed forces, we are ready to take action against them if found guilty of any criminal offence. This has happened in the past as well like in the killing of Premawathi Manamperi in 1971 and the Suriyakanda incident in 1987," Mr. Ranawaka said.
He said the government was now bent on spreading disinformation that the common opposition would withdraw the security forces from the North, if it came into power. Mr. Ranawaka emphasised that the common opposition would never betray the security forces.
Mr. Ranawaka said a conspiracy was being hatched by the Government to prevent the people in the North from voting at the election and urged the people to exercise their democratic right by casting their vote.
WATCH