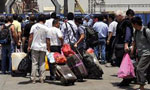 Due to the volatile situation in Yemen, the government had made arrangements to evacuate all Sri Lankans in Yemen, the Ministry of Foreign Affairs said.
Most of them are residing in capital Sana'a and other main cities.
The Ministry said in co-ordination with the Sri Lankan Embassy in Muscat, which is concurrently accredited to Yemen, is exploring all possible avenues to ensure the safe return of the Sri Lankans.
"The Government has sought the assistance of the UN Office in Sana'a and the International Organisation for Migration (IOM) in Colombo in the evacuation efforts. Also the Indian Government has promptly acceded to the request of Sri Lanka to bring the stranded Sri Lankans along with Indian nationals in Yemen, who are to be evacuated by air and sea on special flights and ships respectively," the ministry said.
Deputy Minister of Foreign Affairs Ajith P. Perera last week instructed the Sri Lanka High Commission in New Delhi and the Sri Lankan Embassy in Muscat to liaise with the Ministry of External Affairs of India and the Indian Embassies in Muscat and Sana'a to coordinate the evacuation process.
Foreign Minister Mangala Samaraweera, too has issued directives to the High Commissioner of Sri Lanka in Kenya and the Charge d' Affaires in Muscat in Djibouti to support the operation in co-ordination with the Indian officials.
The Ministry of Foreign Affairs urges the next of kin of the Sri Lankans in Yemen to provide the contact details of their relatives to the Ministry by e-mail or telephone, MFA, Consular Division – 0115839414 / 0112323015 consular@sltnet.lk / cypher@mea.gov.lk; OR request their relatives in Yemen to provide the information to the Sri Lanka Embassy in Muscat, - Charge d' Affaires/Oman 0096 895863739/ 0096 899898836,lankaemb@omantel.net.om)