---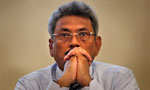 The former defence secretary Gotabaya Rajapaksa has been asked to come to the FCID office this morning.
Police sources said that Mr Rajapaksa had been requested to come in connection with the alleged financial irregularities in the purchase of four MIG 27 fighter jets for the Sri Lankan Air Force in 2006, the sale of shares of the Lanka Hospitals Company belonging to Harry Jayewardene and other matters.
Earlier he had been asked to come to the FCID on April 11, but as he had to be present at the Bribery Commission on that date he had asked the FCID to postpone the questioning for another day; he had then been notified to be present at the FCID today.
The Supreme Court has issued an interim order preventing the arrest of Gotabaya Rajapaksa by the FCID.
(Indika Ramanayake)