---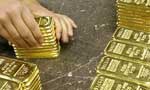 A Sri Lankan male had been arrested by the Sri Lanka Customs while trying to smuggle in 24 pieces of gold slabs weighing 2.4 kgs valued at Rs. 12 million at the BIA, Customs Spokesman Leslie Gamini said.

"The suspect arrived from Mumbai and was arrested after information given by the Captain of the flight," he said.

He said the 40 year-old resident of Akurana had tried to take in the gold slabs concealed in his hand luggage.

"The suspect and the gold slabs will be handed over to the Central Investigation Division for further investigation," he said.