---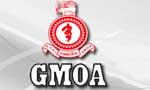 The Government Medical Officers Association (GMOA) today said that there were not enough specialists in the country to assist probes into hazardous incidents such as the Coca-Cola factory's oil leakage, which contaminated the Kelani River.
GMOA Spokesman Dr. Naveen Soysa said the country Health Service lacked specialists in toxicology and many other areas.
He said toxicology specialists were needed to successfully probe the incident, where water was contaminated by oil.
He said proper legal action should be taken against the responsible company after conducting a credible investigation regardless of the size or nature of the company.
(Lahiru Pothmulla)