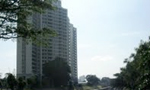 A 4-year-old girl child had fallen to her death from an apartment of the Havelock City Apartment Complex at Wellawatta last night, the Police said.
They said the child succumbed to her injuries on being admitted to the Colombo South Teaching Hospital.
Police said the child was resident of Mabola and she had come to the Wellawatta complex, where the sister of the child's mother was residing on the 11th floor apartment two days before the incident.
However, Police Spokesman SSP Ajith Rohana said the girl's body was found from the 2nd floor of the building Saturday night.
"Investigation would be carried out whether the child was fallen from the apartment or it has any other reason, however initial investigations have revealed that the child and her nine-year old sister were at the apartment complex elevator before the incident had happened and later her sister had left from the elevator while the child was inside," SSP Rohana said.
According to the initial investigations, the child had been playing with her mother and her nine-year-old sister on the second floor of the building. The child had wanted a drink of water. The nine-year-old sister had accompanied her to the 11th floor in the lift in order to get the water., On the 11th floor only the elder sister had managed to get off and the lift had gone on to the 22nd floor with the 4 year-old.
Police believe that when the lift door opened in the 22nd floor, the 4 year-old child had come out and gone to look for her sister -- and while doing so fallen to her death.