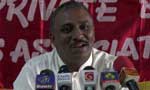 No political revolution had taken place in the country, while the shadow operations of Mahinda Rajapaksa had emerged especially in the transport sector, Lanka Private Bus Owners' Association Chairman Gemunu Wijeratne said today.
"Extorting money from private bus owners had not stopped so far and no solution had been provided by the government in the 100-Day-Programme as promised during the election time," Mr. Wijeratne said.
"Extortion began following the establishment of mushroom associations by the National Transport Commission (NTC) during the previous government and permits were given through those bus associations.
"Several bus associations were cancelled by the present government during the 100-Day-Programme. Unfortunately, those associations are now being reactivated under the guidance of the NTC. This will lead to extortions again," Wijeratne said.
"The time keepers are taking money in connivance with the officials of the NTC while the Provincial Road Passenger Transport Authority is extorting money through bus halts.
"By this process, about Rs. 170 million are collected per month from private bus operators," Mr. Wijerathne said.
"The extortion racket is now as alive as it was during the previous regime," Wijeratne said.
(Chaturanga Pradeep)