---
The alleged drug kingpin who was released from police custody for being seven minutes late to the hearing that would extend his detention period has departed to Sri Lanka from Maldives, Haveeru on line has learnt.
Haveeru is aware that the man departed sometime last week. However, the reason for his departure remains unknown and the police refuse to comment regarding the matter.
The police did not reveal any details regarding the detainee who was released for being late to court. But Haveeru found out that the detainee was an alleged drug kingpin who was arrested in December 2013. Upon searching him, police had discovered large quantities of drugs on him and a search in to his apartment led the police to discover even more drugs. MVR 150,000 was also found in his apartment.
A police spokesperson said that the detainee in question was released "after a court order". Reportedly the police had tried obtaining a court order to bring him in to police custody again. However, the court had refused to oblige, citing that the man had to be released due to police negligence.
Even though the police maintain that the alleged drug kingpin was released after a court order, the police had failed to take him to the court before his detention period expired. The police had released the man before he could appear before a judge.
The man had to be appear in court before 2:46pm on April 1. However, the police had taken him to the court at 2:54pm.
According to the constitution, a person can only be detained with the police for longer than 24 hours with a court order.
The High Court had once ordered the release of a man who had been arrested with two kilograms of drugs by raiding his office without a warrant. The Criminal Court too had once discarded all evidence that had been gathered by raiding a house five minutes prior to the time specified in the warrant.
A convicted drug kingpin, Ibrahim 'Shafaa' Shafaz is also currently in Sri Lanka.
He had left citing medical reasons whilst he was serving his sentence. However, no member of the Maldives Correctional Services had accompanied him.
Shafaz has since appealed his case to the High Court. He was sentenced to 18 years of imprisonment and was fined MVR 75,000 by the Criminal Court. (Haveeru Online)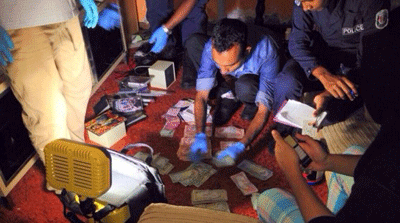 Police search the apartment of the alleged drug kingpin in December: The police had found large quantities of drugs and a huge sum of money from the apartment of the man who was released from custody for being late to the court.