---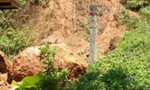 Four people were killed in Karunapura and Hegoda areas in Badulla when an earth embankment collapsed on their houses.


The bodies of a 58-year-old woman and her 22 years old son were found buried under the debris of their house in Karunapura.


Two men aged 53 and 63 were also killed in earth mound collapses in Hegoda.