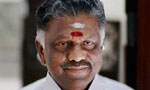 Terming as "shocking" the arrest of 54 state fishermen by Sri Lanka, Tamil Nadu Chief Minister O Panneerselvam today wrote to Prime Minister Narendra Modi, saying it could undermine the bilateral fishermen-level talks to be held this week between the two countries.
Seeking Modi's personal intervention for setting free the fishermen, Panneerselvam said in a letter to him that the talks would be meaningful only if the fishermen and their boats were released.
The third round of talks between fishermen of India and Sri Lanka on the contentious issue of fishing rights in Palk Bay and Palk Straits are scheduled to be held on March 24 here and the Lankan delegation of fishers are expected here tomorrow.
"I wish to state that only when all the fishermen in Sri Lankan custody and their boats are released would the talks be meaningful and conducted in a conducive atmosphere," the Chief Minister said.
Noting that the groundwork for talks was complete and expectation was high that the exercise could lead to a breakthrough, he said the arrest of the fishermen at such a time in two separate incidents yesterday was most "disconcerting and shocking."
"The steps taken to defuse the tense situation in coastal districts and to create a conducive atmosphere for the smooth conduct of bilateral fishermen level talks could be undermined by this action of the Sri Lankan authorities," he cautioned.
Stating that the incident "definitely required" Modi's personal intervention, he said, "we exhort you to take concrete and decisive action to ensure the immediate release of the 54 apprehended fishermen and their ten boats."
"When they were fishing in Palk Bay, 33 fishermen in 5 boats belonging to Rameswaram and 21 fishermen in 5 boats belonging to Jagathapattinam who set sail on March 21 were arrested by Sri Lankan Navy and have been remanded up to March 27 and April 2 respectively," he added.
(PTI)