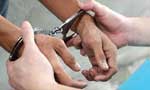 The man who claimed to be the ex-lover of the 28-year-old abducted female schoolteacher surrendered to the Urubokka Police along with the said teacher thiis afternoon.
The suspect surrendered to police through an attorney and he was immediately taken into custody whilst the teacher had been referred to a medical examination.
According to police, the teacher a resident of Puwakgahahena in Mawarala, had been abducted by an unknown gang in a white van on Monday morning.
Urubokka Police initiated investigations following her father's complaint that his daughter had forcibly been taken away in a white van.
Within hours after the abduction the police took the younger brother of the suspect from his residence in Devalegama in Deiyandara on Monday night.
Having questioned him the police located the van used for the abduction in Embilipitiya and took its owner into custody who had driven the vehicle to commit the crime.
Police Spokesman ASP Ruwan Gunasekara said five persons including the main suspect had been involved in the abduction.
Urubokka Police are on the look out to arrest two more suspects who are presently at large. They were known to be friends of the main suspect.
While surrendering to the police the teacher had claimed that she went with her ex-lover with her consent. But later she had divulged to the police that her former lover had taken her by force, ASP Gunasekara said.
According to initial investigations both the suspect and the abducted girl had been having a relationship whilst they were studying together at the university.
The affair had ended two years ago and after the completion of university education the girl had become a teacher.
Urubokka Police is conducting further investigations whilst the main suspect's brother had been remanded after being produced before the Morawaka Magistrate today.
(Kurulu Koojana Kariyakarawana and Darshana Sanjeewa)