---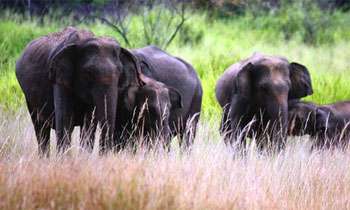 A total of 51 wild elephants and 19 people had died in the Polonnaruwa District due to the human-elephant conflict to date this year alone, Wildlife Conservation Department officers of the Polonnaruwa District said.
A senior Wildlife Conservator said the death toll of wild elephants had been increasing in alarming proportions due to human activities and that elephants were often shot dead or killed by traps, while others were knocked down by trains.
He said the elephants going in search of fodder or water had also been found bogged down in marshes or drowned in rivers and canals.
He said the villagers had also resorted to the merciless act of laying the locally made explosive device called Hakka Patas (Explosive-laden fruits which explode as the animal eat them).
The explosive goes off causing serious injuries to the animal's mouth which results in the death of the animal after a long and immense suffering for days of thirst and starvation added to the pain of injuries.
He said that clearing of forests for development and haphazard expansion of human settlements were the major causes of the human-elephant conflict and that the environment and the wildlife were casualties of such development.(. K.G. Karunartne)