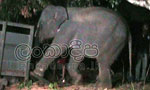 Wild Life officers took into their custody two elephants found without proper registration documents, as they raided an elephant polo event at the Oruwala Steel Cooperation grounds on Sunday, official said.
The department said following information that some elephants were being used to play elephant polo at the grounds, wild life officials raided the venue and found the two elephants which were tied to trees in the vicinity of the ground.
The elephant polo event, which was organized by a private company to cater to foreign tourists was held at the ground since morning.
Wild Life additional director (Western) W.A.D. Indrajith said one of the elephants was reportedly owned by former deputy Minister Chandana Kathriarachchi and Ali Roshan was the owner of the second elephant.
Meanwhile, former deputy minister Kathriarachchi said he had proper documents to prove ownership of the elephant. "I have taken this elephant from the Pinnawala elephant Orphanage after following a proper procedure and I have even a Gazette notification in this regard," he said.
(Gunawathi Ilangakoon Manike)