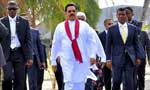 Election Commissioner Mahinda Deshapriya today ruled out the legal possibility for him to reduce the security and other privileges assigned to Mahinda Rajapaksa as the former President despite him being a candidate at the upcoming polls contesting from the Kurunegala district under the UPFA.
Addressing a news conference, Mr. Deshapriya made this remark in response to UNP Candidate and Minister Akila Viraj Kariyawasam who complained about the possible abuse of such privileges by Mr. Rajapaksa in the run up to the election as a rival candidate.
"I respect the right of Mr. Kariyawasam to bring this to my notice. I hope the personnel assigned in the security detail of that particular candidate will not do their duty without involving in election propaganda. If there is involvement in any election related activity, it can be looked into. Otherwise, I cannot order the reduction of privileges guaranteed to any candidate by the law because of the positions they hold," he said.
He said the Cabinet Ministers, the Deputy and State Ministers, the Speaker and the members of the Constitutional Council were entitled to certain benefits such as security under certain legal provisions, and he could not dispute them as per the law.
Yet, the Elections Commissioner said he took steps to withdraw security provided to former MPs contesting this election under an agreement struck with political party leaders at a meeting.
He said it was done to ensure a level playing field for all candidates, barring those entitled to such rights under the law.
"I have to be equal to all in my dealings as the Election Commissioner. It is unfair to point fingers at me for withdrawing security. Be they from major parties or small parties, a level playing field is needed in the run up to the election. If I give any special treatment to the candidates from main parties, others can sue me. Otherwise, I did not withdraw security of the former MPs with malice," he said.
However, the Commissioner said the candidates, with threats on their lives, could seek special security arrangements from the Inspector General of Police (IGP) and the Ministry of Public Order.
"Then, I should be informed in writing. After an analysis of intelligence reports, special arrangements can be made for the security of such candidates," he said.
(Kelum Bandara)