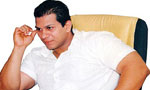 Action will be taken against controversial Colombo District UPFA Parliamentarian Duminda Silva once the evidence gathered from his 20-hour long interrogation that lasted for three days at the CID office is assessed, Police Spokesman Ajith Rohana said today.
MP Silva who was subjected to an intense interrogation by several experienced CID detectives in the rank of Assistant Superintendent of Police for his alleged involvement in a money laundering case linked to the notorious drug trafficker Gampola Vidanalage Samantha alias 'Wele Sudha' concluded last evening.
The Parliamentarian was questioned on many areas related to his financial gains, various modes of income and how he had made striking donations to various public institutes including religious places, the sources said.
He was reported to have confronted with the evidence gathered from Wele Sudha's statement that a commission of Rs.2.5million was paid by the latter. Also questions over 80 bank and financial accounts that allegedly belonged to him were raised and statements were recorded.
When asked if the Parliamentarian would be arrested soon, the Police Spokesman said the CID was currently assessing and matching the evidence gathered from his lengthy statement with the one recorded from 'Wele Sudha'.
The young Parliamentarian who was summoned to the 'fourth floor' of the Criminal Investigation Department on Tuesday morning at 9.00 am was questioned for six hours until 3.00 pm and he was summoned for the second time on Wednesday, and grilled again for six hours from 11.00 am to 5.00 pm.
Mr. Silva reported to the CID at 9.00 am yesterday and his statement was recorded till 5.00 pm. He arrived with his attorney on all three days and was given 30-minute breaks for lunch and tea during every session.
(Kevin Kariyawasam)