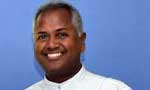 Questions have been raised by different parties over the manner in which Sri Lanka Cricket (SLC) has handled a tender estimated to be worth Rs. 20 million to supply 200 cricket kit bags to schools and an e-mail exchange between one of the bidders and some SLC interim committee members shows how certain members of SLC interim committee had attempted to influence the tender process.
Sources said that SLC had finally offered the contract to the brand SS in India through a local contact who deals in sports goods with connections to the Interim Committee. They have made the third lowest bid of US $ 258.55 per kit bag (a total of US $ 51,710 or Rs. 7.34 million). We reliably understand that appointed local agents in Sri Lanka for SS did not participate in the tender.
The lowest bid had been made by a little known brand called Ranson at US $ 180 per bag while the second lowest bid had come from reputed international cricket brand SG who made a bid of US $228 per bag.
SLC interim committee member Kushil Gunasekara who headed the Tender opening committee was accused of supporting Ranson by one bidder who had forwarded an email exchange between himself and Gunasekara to SLC Interim committee chairman Sidath Wettimuny. It is believed that Wettimuny distributed copies of this mail exchange to the other SLC Interim committee members at a later meeting in order to investigate the matter.
Ranson had made the lowest bid of US$ 180 per bag, but the material had been of very inferior quality and had been rejected by the Technical Evaluation Committee (TEC) subsequently.
The closing date for submission of offers was the 21st of September 2015 at 3.00pm. All samples were also required to be handed over by 3.00pm. However, Gunasekara had brought the samples of Ranson as he walked in to SLC for the Tender opening. He had accepted this fact in a mail sent to SG's local representative later.
"Yes I did bring the sample as it had been delivered to my office at the time of the Tender opening just before 4pm," Gunasekara wrote to the bidder.
However, Gunasekara had explained that he was just trying to save money for SLC through his method and had obtained the help of an Australian based Sports goods shop owner Harry Solomons who was born in Sri Lanka to rope in the brand Ranson.
"Obviously to get the best value through my charitable network as requested by Sidath (Wettimuny) which Ashley (de Silva, SLC CEO) was aware as well, Harry helped me to find Ranson brand who quoted the lowest," Gunasekara wrote.
"Our Intention is to save every cent to benefit SLC and by my intervention it seems like that objective has been accomplished," added Gunasekara.
However, SG had replied pointing out that SLC's advertisement did not call for the cheapest option.
"At what point did SLC mention that they were only looking for the cheapest option? If so, SG being the largest cricket goods manufacture in the world with the widest range of goods on offer could have easily tendered as per your requirement without any complications. As per the advertisement attached, it is nowhere mentioned that SLC was looking only for the cheapest or to submit just one sample item. Also, if you could have fulfilled the requirement through your charitable network, why bother to waste our time, money and all that effort?," questioned the supplier.
"Unlike Ranson, SG has given SLC a choice and quoted accordingly as per the samples handed over and nothing inferior. So if you are comparing prices, please do not try to compare apples against Oranges. If you may know, there's a huge price difference between a Grade 1 and Grade 4 bat. I learned it the hard way spending time in the SG factory for over 4 days in Meerat/ New Delhi," he wrote.
"I have no issue SLC getting the best deal. My point however, you personally getting involved & influencing the process. You as an IC member should not have got involved at any given time. If IC members can influence, what is the point following a Tender procedure? In my view, this is a gross violation and simply not acceptable," he added.
"Check the advertisement carefully, Tender closed at 3 pm and any bids or samples received thereafter are not acceptable. We went through a lot of hassles and incurred massive courier costs, etc to ensure that the samples were delivered before closing time. But you have clearly stated that you brought the samples at 4 PM. This is a total violation which should be inquired and Ranson bid should be disqualified immediately," he pointed out.
"By the way who & what's Ranson? Do they at least have an agent in Sri Lanka except you in case of any clarifications, issues, etc? Do they have the capacity to handle such a tender? Sad to say rather dodgy & disappointed over your involvement & justification," he wrote.
The TEC that comprised of Carlton Bernadus (Chairman), Dilshan De Silva (Schools Cricket Association), Representative from SLC Coaching Department, Harsha Gunaratne, Ashantha Dassanayake and Daksha Jayakody (Accountant) had ranked SG to be the number one in quality, SS to be number two and Ranson to be number 5 in quality.
In addition, it's believed that SG also offered a kit sponsorship for the National U19 team since some of the players are already under contract with them.
(Channaka de Silva)