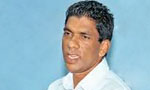 Estate Infrastructure Minister Palani Digambaram said today he would vote against the 20th Amendment when it is taken up in parliament.
He told Daily Mirror that he had taken this stance because the new proposal would not increase the number of MPs in the House. He said it would be impossible to have a multi- member seat in the Nuwara Eliya District if the number of MPs are not increased up to 255 as proposed in the original draft.
The minister said according to the new proposal there would only be three multi-member constituencies .
He said he could not accept the assurance given by the government that it would ensure that five representatives of the estate Tamil community would be elected to Parliament.
"This cannot be accepted because the minority parties may not get the opportunity of nominating members in such a scenario as these decisions will be made by the major parties," the minister said and added that he would continue to be with the government as it was a personal opinion on a single matter.
Meanwhile Tamil Progressive Alliance (TPA) leader Mano Ganesan yesterday said his alliance is against the decision of the cabinet to confine Parliament to 225 members.
"We are for 20th amendment but against the decision to work out a formula without increasing the number of MPs an to elect 125 members under the first past the post system.,"Mr. Ganesan said.
He said minorities would not be adequately repasented in the proper manner.
Mr Ganesan charged that the decision has been not to increase the number of MPs to 255 in order to accommodate more minority members.
Mr Ganesan said he had informed this stance to Prime minister Ranil Wickremasinghe and will meet him and President Maithripala Sirisena shortly to discuss on the matter
Also the alliance and the other minority parties are to meet on Thursday for a meeting to discuss the situation.
(Yohan Perera)