---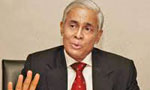 Former Chief Justice Sarath N. Silva said yesterday the move by the President to seek an opinion from the Supreme Court was to preclude parties such as him from going before the Supreme Court.
Speaking to the Daily Mirror Mr. Silva said the two questions posed by the President to the Supreme Court were in his personal capacity and not as the President of the Republic.
"Both questions he had posed for opinion from the Supreme Court are personal. He is asking a question regarding his qualification to contest and if he could declare an election," he said.
Mr. Silva said the very fact that President Mahinda Rajapaksa had sought the opinion of the Supreme Court underscores the fact that he was disqualified from contesting.
He said that Article 129 of the Constitution under which the President has sought the opinion has been abused by the President when he sought to invoke the consultative jurisdiction of the Supreme Court. (Hafeel Farisz)