---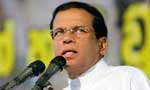 President Maithripala Sirisena today offered his condolences to Thailand's King Bhumibol Adulyadej over the death of 20 innocent people, including foreigners, due to a deadly bomb blast near Bangkok's Erawan shrine on Monday.
The President, on behalf of Sri Lankan Government, also offered his deepest sympathies to the relations of the victims who faced this tragic incident.
He offered his condolences to the people and the Government of Thailand. He also expressed his sorrow for the deceased persons' relations, and wished a speedy recovery to the injured.