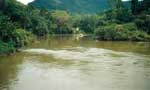 The Environmental Protection Licence (EPL) granted to the Coca-Cola beverage factory which is being blamed for oil leakage into the Kelani River has been temporarily suspended, Central Environmental Authority (CEA) Chairman Prof. Lal Dharmasiri said.
"We have discussed this matter with the Coca-Cola Company and have instructed it to adhere to the conditions specified by the CEA if the suspension is to removed," he said. "We are more concerned about the contamination of the water sources which provide drinking water to the people and would take stern action against institutions which flout the regulations," Mr. Dharmasiri said.
He described the action taken after detecting the water in the Kelani River at Kaduwela and Biyagama had been contaminated as a result of releasing the oil mixed with water had been released by a soft drink manufacturing company in the area.
A special meeting arranged on the instructions of the CEA chairman was attended by the officials of the Coca-Cola Company in Biyagama, the National Water Supply and Drainage Board (NWSDB), Biyagama Divisional Secretariat, Disaster Management Centre (DMC) and the Irrigation Department.
The laboratory testing was conducted by the Gampaha District Branch of the CEA.
It was also found that the water in the Ambatale reservoir which supplies water to households in Colombo and the suburbs had also been contaminated with oil and had led to the disruption of drinking water.
The Ambatale water pumping plant has also been damaged and had to be repaired at a huge cost with the assistance of the Ocean Environment Protection Authority.
The Coca-Cola Company has under taken to reimburse the expenses incurred by the CEA.
(Chaturanga Pradeep