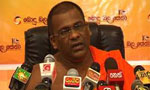 The Bodu Bala Sena (BBS) organisation today emphasised that issuing a circular to let the National Anthem be sung in the Tamil language violates the constitution.
The General Secretary of the BBS, Ven. Galagodaththe Gnanasara Thera said the entire statement, made by the Leader of the Democratic People's Front (DPF) Mano Ganesan was unconstitutional and President Maithripala Sirisena could not issue a circular because it was against the constitution.
He alleged that even the Prime Minister and the National Executive Council (NEC) had been appointed violating the constitution and now the President could not allow the National Anthem to be sung in Tamil by using a circular. He said the current government was trying to create new problems by making these kinds of statements and as a national organisation the BBS was condemning this proclamation.
Speaking to the Daily Mirror, the Executive Director of the BBS, Dilantha Withanage said according to the constitution the government has to have a referendum and seek the people's views to change the language of the National Anthem.
He said that changing the language of the National Anthem would not solve the communal problems in Sri Lanka, and the government has to think and take more wise decisions for the country's future.
(Yoshitha Perera)