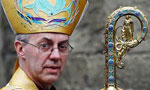 The Archbishop of Canterbury had not sought to influence the outcome of the Sri Lankan presidential election, a media statement said today.
Archbishop of Canterbury Justin Welby was referring to reports with regard to the resignation of Bishop of Kurunegala Rev. Shantha Francis said he had not sought to influence the outcome of the presidential election.
"Any suggestion that the Church of Ceylon or Archbishop of Canterbury was seeking to influence the outcome of the Presidential Election in Sri Lanka is categorically untrue," he said in the statement.
"The visit by Bishop Shantha to Canterbury last week was to consider with him the various options for dealing with his position as a Bishop, who had voluntarily stood down following numerous complaints.
"A particular cause of concern was his involvement in unresolved criminal proceedings relating to misappropriated pension funds. Members of his own Diocesan Standing Committee had requested that he should resign and he agreed to do so," the statement said.
"The Anglican Church in Sri Lanka has had a long and honourable history as a force for unity throughout the whole period of civil disturbance on the Island. Successive Bishops of both dioceses have used their influence to build relationships between the communities, maintaining the Church's reconciling mission across the nation.
"That unifying mission has the full and unqualified support of the Archbishop of Canterbury and is wholly aligned with his own emphasis on reconciliation in every aspect of his own ministry, across the world," the statement added.
The Archbishop of Canterbury is the senior bishop and principal leader of the Church of England, the symbolic head of the worldwide Anglican Communion and the diocesan bishop of the Diocese of Canterbury. The current archbishop is Justin Welby.