---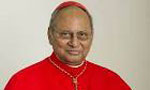 The Catholic Church in Sri Lanka is not in a position to ask Pope Francis to cancel his visit to Sri Lanka next month, Cardinal Malcolm Ranjith said yesterday.
"The church cannot just ask the Pope not to come visit Sri Lanka after inviting him in the first place," the Cardinal told a media briefing yesterday.
He emphasised that organizing such an event as a papal visit to any country is a difficult task and therefore everyone concerned should see to it that an appropriate atmosphere was created for the visit of the Holy Father to Sri Lanka.
Cardinal Ranjith recalled that the Catholic Bishops Conference in Sri Lanka had met the two main contenders at the presidential elections and both have assured him that they would see to it that peace prevailed in the post election period for the Pope to arrive. Accordingly the one who wins the election would be expected to welcome the pope to Sri Lanka," he said.
Cardinal Ranjith further said that the papal visit was organized long before the decision was made by this government to hold a snap presidential election and the church had asked the authorities not allow the elections to clash with the papal visit. But he said the authorities had decided to go ahead with the election anyway.
Responding to a question raised by journalists as to whether the Vatican had raised any concerns about the situation in Sri Lanka that could hamper the visit of the Pope to Sri Lanka, the Cardinal said that delegations from the Vatican had had held discussions withthe Sri Lankan authorities concerned and all parties had agreed that the visit could go ahead. (Yohan Perera)