---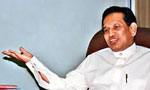 The Chinese embassy in Colombo today denied claims by Health Minister Dr. Rajitha Senaratne that the estimated cost of the Colombo Outer Circular Road was reduced by Rs.30 billion.
An embassy spokesperson told Daily Mirror that the news report on the Colombo Outer Circular Road cost reduction was not in line with the facts. "We have contacted the relevant Chinese contractor. It was proved that no agreement was reached between the Chinese contractor and Sri Lanka Road Development Authority on any reduction of the cost of the project. The so-called Rs. 30 billion commission being paid to the previous government was also groundless. The total contract cost by the Chinese contractor is Rs. 66.8 billion," he said.
He said the contract cost was reasonable since the 9.5 kilometre project included a six kilometer long viaduct as well as the building of a 3.5 kilometre long embankment which he said was a low estimate compared to those quoted by other countries.
(Kelum Bandara)