---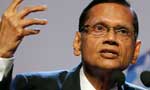 Confidence and certainty of the Chinese government in investing in Sri Lankan projects were lost due to the contradictory statements made by several government authorities towards the Chinese funded Port City project, former Foreign Minister G.L.Peiris said today.
Speaking at an even named "Panel Discussion on the Future Development of the Colombo District" held today at the Grand Monarch Hotel, Thalawathugoda, Mr. Peiris said there is a trend of Chinese investors declining to invest for Lankan origin projects since they have been discouraged by the government after the January 8th General Election.
"One minister says the Port City construction was halted, while another minister says it is not," he said.
The General Secretary of the UPFA Susil Premajayantha and UPFA candidate Dilan Perera were also at the event.
Meanwhile, Mr. Premajayantha alleged that the UNP government which created the sordid chapter of the Batalanda saga of killings and tortures between 1988 and 1990 is nowadays trying to substantiate the death of former Havelock's Rugby captain, Wasim Thajudeen by pressing the authorities to exhume the body.
He asked the UNP as who would prove justice to the youths killed in Batalanda. (Piyumi Fonseka)