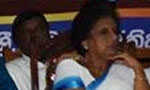 Former President Chandrika Kumaratunga who attended the meeting of the Kurunegala District SLFP Balamandalaya this morning at the Kurunegala Maliyadewa Girls' School auditorium came under hooting and jeering of the crowd.
They scorned the former president with harsh and rude language. The meeting was held under the chairmanship of President Maithripala Sirisena.
The crowd began hooting when ex-president Kumaratunga was invited to light the traditional oil lamp to inaugurate the meeting. The meeting lasted about three hours and when she came out to leave several SLFP Provincial Council Members and Pradeshiya Sabha Members levelled criticism against her.
"Our real leader is former President Mahinda Rajapaksa. You should refrain from criticizing him wherever you go and ruining the SLFP. You must now retire from politics and mind your own business," they shouted.
Meanwhile some individuals even hurled criticism at her in abusive language.
However, the former President who did not show any response to the allegations was taken away from the scene by her security staff.
Meanwhile a member of the Nikaweratiya Pradeshiya Sabha who attempted to defend the former president was assaulted by a group of local politicians representing the SLFP.
Addressing the meeting President Maithripala Sirisena and SLFP General Secretary Anura Priyadarshana Yapa stressed the need to lead the party to victory with concerted effort of all those concerned.
It was of significance that they refrained from making any comments on activities of former President Mahinda Rajapaksa or the meetings organised by a group led by former Minister Wimal Weerawansa.
However, when North Western Province Chief Minister Dayasiri Jayasekara stressed the need to muster the support of former President Mahinda Rajapakesa to take the SLFP towards a victorious path, the crowd responded with loud applause and cheers.
Kurunegala District Parliamentarian Salinda Dissanayake, T.B.Ekanayake, former Minister Johnston Fernando and several provincial council members and Pradeshiya Sabha members in the district were present at the occasion.
(Pusphakumara Jayaratne)