---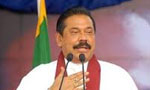 President Mahinda Rajapaksa today said that he cannot allow Sri Lanka to face the same fate suffered by the countries like Iraq, Libya or Egypt.
"Look at the situation in Iraq, Libya and Egypt, we cannot allow this to happen in this country," he said addressing an election rally in Mullaithivu.
Reminding the war in the country, which ended in 2009, the President said that he would not allow the country to go back to the dark era again.
"We cannot let the terrorism to raise its head again. The conflict era was 30 years, but we had only five years to develop the country. If we divide ourselves into religions and races, as a country we cannot go forward," he said.
He said the Government had resettled 39,913 families in the Mullaithivu District as of 2013, benefiting 127,892 persons.
"I want you to join hands with me to develop your area and to give a brighter future for your children," he said.