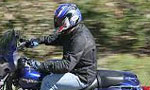 The Court of Appeal today issued an interim order suspending the operation of police advisory circular banning the use of full face helmets until April 28.
The Court of Appeal bench comprising Justice Vijith K. Malalgoda (President) and H.C.J. Madawala made this order sequent to two writ petitions filed by a Chartered Accountant and Rtd. Major who sought an order prohibiting the authorities from taking any steps towards imposing a ban on the use of full face helmets.
President's Counsel Faizer Mustapha appearing with Pulasthi Rupasinghe, Harshana de Silva, Mehan Careem and Charaka Jayaratne appearing for Rtd. Major Nalaka Indrajith also sought an interim order to suspend the operation of the gazette notification No. 644/20 dated 11/1/1991.
Meanwhile, Counsel Thishya Weragoda, Iresh Senevirathna and Mrs. Niluka Dissanayake appearing for the second petitioner Chanaka Dassanayake of Pita Kotte a Chartered Accountant by profession also made a similar application for an interim relief. He further affirmed that a public outcry had arisen against the new decision.
The Petitioner stated that, as per information disseminated by the Police Media Spokesman, a total of 128 incidents of robbery had been reported in 2014 committed by persons wearing "full face helmets". He further stated that as per statistics made available by the Department of Police, over 4000 robberies had been committed in 2013. He stated that on 25th March 2015, the Media Spokesman of Police, notified to the public at a press conference that the ban on the use of full face helmets will be made effective with effect from 2nd April 2015.
The Petitioner maintained that the decision of the IGP to ban the use of full face helmets with effect from 2nd April 2015 has not been communicated to the public by way of any regulation or publication in the Government Gazette, and the Petitioner verily believes that the only communication in this regard has been the press statement made by the Media Spokesman. The Petitioner further pleads that the objective of minimising crime rates, which is the purported objective of introducing the ban on full face helmets, could be achieved through other less restrictive means, such as simply ensuring that full face helmets imported, manufactured or otherwise sold in Sri Lanka fully comply with the Motor Traffic (Approved Protective Helmets) Regulations 1990, thus ensuring that full face helmets do not by any means obscure, conceal or distort the identity of the wearers of such helmets..
(Lakmal Sooriyagoda)