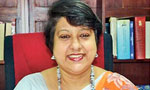 Categorically denying the allegations that she received two salaries Bribery Commission Director General Dilrukshi Dias Wickramasinghe yesterday requested the Commission's Chairman to conduct a full-scale probe into her actions.
Speaking to Daily Mirror at 9.30pm today from her office at the Commission to Investigate Allegations of Bribery or Corruption, the DG said that she was innocent and was ready to prove her innocence at any forum.
Ms. Wickramasinghe said that the baseless and frivolous allegations were made to demoralise her and prevent her from fighting corruption.
She had requested the Chairman of the Commission, Justice Jagath Balapatabendi, to conduct a full scale probe and stated her willingness to support it in any form.
A group of SLFP Parliamentarians, led by MP Manusha Nanayakkara, had lodged a complaint against the incumbent DG claiming that she had received two salaries in 2002, whilst working at the Attorney General's Department and also as a Consultant to the Telecommunications Regulatory Commission of Sri Lanka.
(Kurulu Koojana Kariyakarawana)