---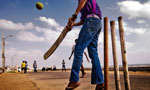 An underage boy arrested by the Slave Island Police was produced in Court on charges of having played cricket on Vauxhall Street in Colombo 2, in a manner that caused obstruction to vehicles travelling on the road and pedestrian on the pavement.
The underage boy a resident in Colombo 2 pleaded guilty to the charge when the case was taken up for inquiry by Colombo Fort Magistrate Priyantha Liyanage.
He was released after being warned not to repeat such an offence.
Police said the suspects had committed a punishable offence under section 59 of the National Thoroughfares Act No.40 of 2008. Under this Act, anyone found guilty was liable for a fine of Rs.5,000 increasing to Rs.50,000 in the case of a second or subsequent offence.
A cricket bat and two plastic chairs used as the stumps were named as case productions.
(Lakmal Sooriyagoda)