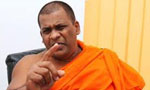 Prime Minister Ranil Wickremesinghe and ex-president Mahinda Rajapaksa should not treat each other as enemies when contesting the general elections, Bodu Jana Peramuna (BJP) Leader and BBS General Secretary Ven. Galagodaatte Gnanasara Thera said today.
He asked former President Chandrika Kumaranatunga not to treat Mahinda Rajapaksa with enmity and that Field Marshal Sarath Fonseka, Gotabaya Rajapaksa, Udaya Gammanpila, Champika Ranawake, Wimal Weerawansa and the JVP should forget their political differences and treat each other with respect and honour.
"We should consider these people as Sri Lankans and should work under a national policy for at least two years. Party leaders should cooperate with each other because if not it will be catestrophic for Sri Lanka," the Thera said.
He recalled that in 1815 the country was handed over to the British on an agreement.
"A repetition seems likely after 200 years during and after the election," the Thera said.
He said the BJP had submitted nomination lists for 16 of the 22 districts.
(Chaturanga Pradeep)