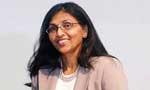 US Assistant Secretary of State for South and Central Asian Affairs Nisha Biswal arrived in Sri Lanka in the early hours today on a two-day visit with Assistant Secretary of State for Democracy, Human Rights and Labour Tom Malinowski, Foreign Affairs Ministry Spokesman Satya Rodrigo said.
Meanwhile, the US state Department said that the two officials were scheduled to meet senior government officials, political party and civil society leaders and the private sector in the spirit of partnership that Secretary Kerry highlighted during his May visit.
"Their trip will focus on US-Sri Lanka cooperation to further economic growth, strengthen good governance and democratic institutions, and promote reconciliation and justice," the department said.
Assistant Secretary Biswal will travel to New Delhi, India for meetings with government leaders on August 26-27 while Assistant Secretary Malinowski will continue with meetings in Sri Lanka until August 27, it added.