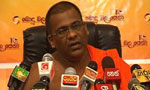 Bodu Bala Sena (BBS), General Secretary Ven. Galagodaatte Gnanasara Thera today challenged President Maithripala Sirisena to prove whether the BBS had harmed the Muslim community.
The Thera threw this challenge sequent to a statement made by the President who was accompanied by Central Provincial Councillor Azath Sally during an official visit to London that the BBS was responsible for intimidating the Muslim community.
While criticising the statement the Thera said he would disrobe and work as a servant for the President. "If the President cannot find any wrong doings by us, he must come and serve me as an acolyte," he said.
The Thera said during this 'secret' discussion held with the Muslim community in London, the President had said the BBS had threatened Muslims and as such they had voted for him at the presidential election.
"The three armed forces are now under the President, still the executive powers are with him, and so he should be able look into any hindrance to the Muslim Community caused by the BBS. If there is evidence to prove any wrong doings by the BBS then I will dissolve the organisation within an hour and work for president Sirisena as a servant or the President should serve me as an acolyte in this temple," the Thera said.
He said these remarks would give wings to the false statement published against the BBS on foreign media because it was the President who had made the remarks this time.
"In the President's 100 day programme, there is no room to discuss the concerns of the Sinhala Community. We should expect this kind of situation after appointing puppet as President. Therefore, the BBS has to come up and discuss these issues. Even Jathika Hela Urumaya (JHU) didn't talk of these issues in parliament," the Thera said.
(Chaturanga Pradeep)