---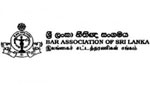 The Bar Association of Sri Lanka (BASL) said yesterday it was ready to help if the Government takes up the legal battle in the European Court of Justice (ECJ) to reintroduce the proscription on the LTTE.
While condemning the Foreign Ministry's failure to maintain the LTTE in the European Union's proscribed list, the BASL said in this hour of need it was prepared to share the knowledge of its eminent members to defend the country.
"I note with shock and anger that the proscription of the LTTE as a terrorist organisation in the European Union has been temporarily reversed," BASL President Upul Jayasuriya said.
"The External Affairs Ministry has failed in its duty to maintain the LTTE organisation in the proscribed list. With the Foreign Service in a shambles and all its powers usurped, it is not surprising that those who have been tasked with the responsibility of defending Sri Lanka overseas have failed miserably," he said in a statement. "However in this hour of need we find it is the duty of the BASL with the wealth of knowledge of some of its eminent members to offer its assistance and pledge our support to the nation to discharge our duty and to have the proscription reintroduced and support our application before the European Court of Justice." (Susitha R. Fernando)