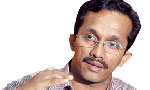 Banks had refused to pay the guaranteed 15 per cent interest rate for the deposits of senior citizens with over a million rupees in their accounts despite the assurance given by the government in the budget this year, Janatha Vimukthi Peramuna (JVP) MP Sunil Handunnetti said yesterday.
Mr. Handunnetti, who raised an oral question on the matter in Parliament, said the banks had gone even further and asked senior citizens with more than one million in their accounts to withdraw their monies.
Chief Government Whip, Gayantha Karunatilleke, who responded, explained that senior citizens who had more than one million rupees in their accounts would be entitled to the 15 per cent interest rate only for the one million rupees while they would earn the usual interest rates for sums in excess of that remaining in their accounts.
He said the treasury would reimburse the extra funds which the banks had to bear to pay the elevated rate of interest to the senior citizen. The Chief Government Whip said a sum of Rs 182. 4 million had been reimbursed to the banks for the first quarter of 2015. Additionally, he said the government had allocated Rs 4 billion for the same this year.
Mr. Handunnetti, who spoke for a second time, said banks were acting arbitrarily and heaping conditions onto senior citizens instead of following the government circular pertaining to the proper interest rates and said he hoped that this would change soon.
(Yohan Perera and Kelum Bandara)