---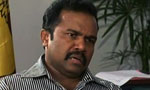 A police complaint has been lodged by a man who alleged that he was assaulted by Sri Lanka Freedom Party (SLFP) parliamentarian Vinayagamurthi Muralitharan alias Karuna Amman over land dispute in Valachchenai.
Police spokesman Ruwan Gunasekara said the man had complained that he was working in a paddy field when Karuna Amman came there and assaulted him. He was later admitted to the Valachchenai Hospital.
ASP Gunasekara said a police officer had visited Karuna Amman's sister's home at Kiran in Valachchenai to record a statement over the incident, but nobody was at home at the time.
He said the police would try to contact Mr. Muralitharan at his home in Colombo and request him to give a statement on the assault complaint.
(DS)