---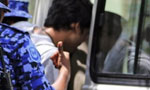 Three Maldivians have been arrested over the recent assassination plot on the Maldives President Abdulla Yameen, that involved a sniper brought into Maldives from Sri Lanka, police announced Sunday, Haveeru Online reported.

A police spokesperson has said the three were take into custody on December 17. They have been remanded for 15 days, he added.

Confirming the arrest of the Sri Lankan sniper for the first time, police said in a statement early last month that the 27-year-old man was arrested on October 24. He has been remanded by the Criminal Court.