---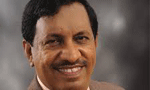 Vice Chairman of the SLFP, Minister Anura Priyadarshana Yapa has been appointed as the General Secretary of the Sri Lanka Freedom Party (SLFP) by party's Chairman President Mahinda Rajapaksa, Minister Keheliya Rambukkwella said.

Former Minister Maithripala Sirisena, who left the government and announced that he would contest at the forthcoming Presidential Election as the Common Candidate, was suspended from the SLFP by President Rajapaksa yesterday.
Meanwhile, Deputy Minister of land and land development Sipripala Gamlath has been appointed as the SLFP Polonnaruwa District organizer with immediate effect.