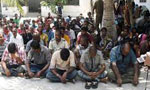 A batch of 46 Sri Lankan Tamil refugees, who were staying in camps across the State for several years, returned to their country from the Tiruchi airport on Tuesday.
This the second batch of refugees returning home in a span of one-and-half months from here. The refugees, including 18 women had been, staying in camps located at Tiruchi, Pudukottai, Salem, Ramanathapuram, Virudhunagar, Tuticorin and Sivaganga districts.
They arrived from different places in the early hours at the airport and boarded the Sri Lankan Airlines flight (UL-132) to Colombo upon completion of immigration and customs check formalities at the airport.
Police said the refugees carried with them exit permits issued by the District Collector concerned after obtaining no-objection certificates from Q branch CID and the respective district police.
The refugees, who left on Tuesday, did not have any police cases against them, the sources said.
They landed in India by boats in different periods at the height of the civil war in the island nation.
In mid-May, a group of 41 Sri Lankan Tamil refugees headed back home from here from various camps after obtaining clearance for their exit.
(The Hindu)