---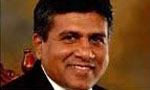 Justice Minister Wijeyadasa Rajapakshe today said all Cabinet and State Ministers along with Deputy Ministers would continue to function until a new set of ministers was appointed in a new parliament following the general elections.
However, according to the 19th Amendment to the Constitution, only Cabinet Ministers could function in a caretaker government during a general election.
"The 19A will be applied once this general election is over. Therefore, all the ministerial portfolios including Cabinet, State and also Deputy ministries will not be cancelled at this election," Minister Rajapakshe said.