---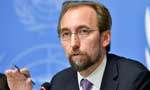 UN Human Rights Chief Zeid Ra'ad Al-Hussein yesterday said the statements made by the government of Sri Lanka casting doubts on the integrity of the OHCHR (Office of the High Commissioner for Human Rights) investigation on Sri Lanka (OISL) were an insult to the UN mandated investigation.

Mr. Hussein said Sri Lanka's continuing campaign of distortion and disinformation about the OISL and attempts to prevent witnesses from submitting information to it was an affront to the UNHRC mandated investigation.

He said the government's refusal to cooperate with the investigation should not be used to undermine its integrity.

"Instead it raises concerns about the integrity of the government in question. Why would governments with nothing to hide go to such extraordinary lengths to sabotage an impartial international investigation?" he asked.

Mr. Hussein also condemned alleged government attempts to intimidate individuals seeking to cooperate with the investigation, stating that such actions were unacceptable for any UN member-state that has committed itself to uphold the UN charter.

"A wall of fear has been created that has undoubtedly served to deter people from submitting evidence," he added.

While rejecting accusations leveled earlier this week by External Affairs Minister G. L. Peiris that the UN probe was 'unprofessional, selective and biased', the HR Chief said it was absurd to accuse the investigation of lacking integrity just because certain groups attempted to submit false evidence or fabricate facts.
"We don't accept anything at face value. UN human rights investigators are trained to spot fraudulent submissions. The process of analysis and corroboration of information and evidence is well defined, refined and codified on the basis of many years of experience," he said.

Commenting on the issues raised by Prof. Peiris on the transparency of the probe, Mr. Hussein said such information would not be released since it was standard procedure to protect sources of information especially where there was a clear risk of reprisal.

Mr. Hussein also urged the government to begin engaging with the probe. "Focus on the substantive issues under investigation instead of obscuring them by the constant questioning of procedures which, while not unimportant, are not at the heart of the matter," he added. (Lakna Paranamanna)