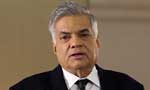 Prime Minister Ranil Wickremesinghe presenting the Government's mid-term economic plan in Parliament today announced major changes to be introduced to the social security sector under which the Employees Provident Fund (EPF) and the Employees Trust Fund (ETF) would be amalgamated to set up a new National Retirement Gratuity Fund and to introduce a new pension scheme.
The Prime Minister assured that trade unions too will be given a role in controlling these funds as well.
Pledging that it would build a third generation economy in the coming years, the Government announced key changes in the economic sector aimed at realizing these goals. Prime Minister Wickremesinghe said that changes would be made to the tax policy which would focus on earning 60 per cent of revenue from indirect taxes and the rest through direct taxes. This is different to the present policy of earning 80 per cent of the revenue from indirect taxes and the rest from direct taxes.
It was also announced that the one off tax, import tax on text books and sports goods would be removed. All Sri Lankan expatriate workers will be exempted of all taxes.
It was also announced that those living in government houses on rent for more than ten years and those living in line rooms would be given ownership.
With regard to national entrepreneurship, it was announced that a system similar to that adopted in Singapore would be introduced and an institution would be introduced in this regard, the Prime Minister pledged.
Meanwhile several new institutions such as a National Development Agency to handle development projects, International Trade Agency to formulate international trade and a Competitive Tribunal aimed at controlling monopolies in the financial markets will be set up. A special BOI for the SMEs will also be set up.
In addition, agriculture insurance agencies where farmers will play a role will also be set up in order to build a stable agriculture sector.
A new Trust termed People's Wealth Trust will be established to safeguard public wealth and properties.
The Prime Minister said both the state and private sector will play a role in these institutions.
"More than 60 years have passed since we gained independence and we have not been able to build up a country of our dreams and this economic policies are aimed at fulfilling that dream by the time we celebrate 75th year of our independence" he said while assuring that Sri Lanka would become one of the most competitive nations in Asia.
(Yohan Perera)