---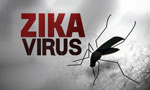 The Health Ministry issued a travel warning today that it was unsafe for Sri Lankan pregnant women to travel to countries affected with Zika virus.
Director of Medical Services Dr. Palitha Mahipala said the Zika virus was spreading in countries like Singapore, Malaysia, Brazil and South American countries.
He informed all passengers to meet a doctor at the airport medical office, if he/she is down with fever, when returning to the country.
Video by Sanjeewa