---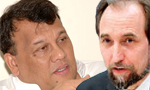 UN Human Rights High Commissioner Zeid Al Hussein is scheduled to make an announcement on Sri Lanka at the 31st session of the UN Human Rights Council (UNHRC) in Geneva on Thursday, one time government envoy to the UN, Minister Mahinda Samarasinghe said yesterday.
At a media briefing at the Government Information Department, he said the High Commissioner had not yet made any statement or announcement on Sri Lanka during the 31st session which began on February 29.
"He had not made a special statement on the country so far, and it is a good development. He will make an announcement on Sri Lanka on Thursday, and it will most likely be based on his visit to Sri Lanka last month. In June, an oral statement will be made on Sri Lanka and it will be followed by a report in September," he said.
He said the status of human rights in the country is better today compared to the past, and added that the national unity government had improved human rights.
The minister also said the foreign policy of the country today is more balanced, and countries which had brought resolutions against Sri Lanka, such as Germany, were allies today.(Darshana Sanjeewa)