---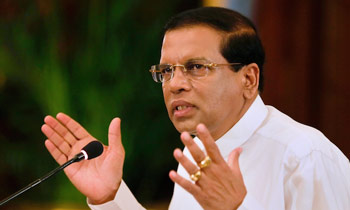 President Maithripala Sirisena said the Government must assure that the practice of youth going after politicians to gain employment, should end as soon as possible.
The President made the remark addressing the closing ceremony of the Yovun Puraya in Trincomalee on Saturday.
"Many people visit my house every morning asking me to put their children in school and others come looking for jobs," he said.
"The youth who make new inventions and those who have innovative ideas do not get an opportunity to do their bit for the country. It is our duty to end this situation. This Government cannot afford to make the same mistakes, which the Governments in the past have made," the President said.
"There was a youth insurgency in 1971 and in 1988/89 and it was the majority of youth, who died in the war in the North and the East. Do we leave room for another youth rebellion? We need to allow the youth the status they deserve in society," he said.
"Sri Lanka is blessed with several cultures and sub cultures. We Sri Lankans carry our motherland forward by uniting all these. Youth of this country is also a powerful force in this endeavor" he added.
"Youth hood is the noblest period in anyone's life. One cannot get his/her youth again after passing that period in life. It is the duty of the rulers to allow the youth to play their independent role in the development process of the country," he said.
Countering the Chief Minister of Eastern Province Nazeer Ahamed, who wanted the issues faced by the unemployed graduates in the North, the President said there were unemployed graduates all over the country.
Prime Minister Ranil Wickremesinghe addressing the event said his Government would bring in development projects, which were even bigger than the Mahaweli project soon.
He said these would generate employment to thousands of youth.
"We will also pay special attention to the North and the East," he said.
He said Sri Lanka will work with a number of countries as it enjoyed the support of the world more than before.
Leader of the Opposition R. Sampanthan said no one could be happy about the war.
He said it was not worth spending time contemplating as to why the country had to face a war.
Mr. Sampanthan said reconciliation was the order of the day.
Eastern Province Chief Minister Nazeer Ahamed stressed that Government should bring in vast development projects such as the Port City to the East as well. (Yohan Perera in Trincomalee)