---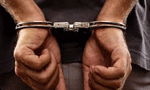 A 26 year old man was arrested yesterday by the Bambalapitiya Police on charges of having video recorded the helicopter which carried President Maithripala Sirisena as it landed at the Bambalapitiya Police Field Force Headquarters Grounds, Police said.
They said the suspect a lorry driver of Thalawakele had video recorded the incident from his mobile phone while in the lorry parked on the Havelock Road.
He was released on police bail today.