---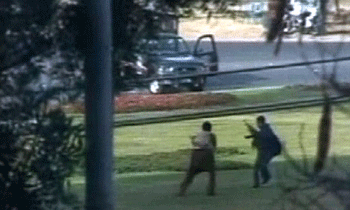 The driver of the bus which carried the Sri Lankan cricket team to Gaddafi Stadium in Lahore when it came under fire by terrorists, said the situation in Pakistan has changed and Sri Lankan players would be safe.
In an interview with the Indian Express, Meher Muhammad Khaleel has said he would be driving the team again to the stadium and requested them not worry about their safety.
"It's so easy for people to say play here but only those who went through that experience can understand that: fear and terror that they went through is not easy to forget. I can understand that. But my request to them is that the situation is better: the army is with you, our people are with you, you will be safe," he said.
Six members of the Lankan team were injured, six Pakistani policemen and two civilians were killed in the attack on March, 2009.
Recalling the day, Khaleel said that when the attackers opened fire, he thought it was celebratory fireworks. But soon he saw, in the mirror, that the Sri Lankan players had dived to either side of the aisle.
He said he then saw a man on the street shoot at the bus. "One went through the glass, one flew by, and I heard the players say, 'Go, go, go'. It jolted me and I decided to drive ahead. To rush ahead an eight-cylinder bus on second gear wasn't easy but I knew I had to escape the scene. They were 10-15 of them, I think, and grouped in twos."
Later, after a few hours, he heard that the Sri Lankans, who were taken to the airbase, said they wouldn't leave the country without thanking him. Khaleel was at the police station then, and the Pakistan Cricket Board took him to the players. "Muralitharan, Sangakkara, Mendis, Samaraweera, Mahela were there, and they gave me so much love and respect — they also stuffed whatever money they had in an envelope and gave it to me."
Khaleel would later go as guest of honour to Sri Lanka and spend 10 days there meeting with families of all cricketers.
"When I went to a public function or even to shopping in a mall, I remember people shouting, 'Hero! Hero! Hero!' It felt really good. I was also invited for dinner with their president."
Then he went to South Africa and stayed there for two more years. Before he moved to South Africa to live, he was there on a visit when he heard players like Mahela Jayawardene were there for a tournament.
"So I called the hotel but one can't reach a player. I told the receptionist who I was, gave my number and asked it to be given to Mahela. He called me soon, and said, 'Oh, Muhammad bhai, where are you? And when I told him I was right there, he asked me to come over. We had a great time, he gave me tickets to an IPL game also. I also saw MS Dhoni and Suresh Raina that time; Raina spoke very warmly and Dhoni said, 'you are so brave, you saved them,"
On his return to Pakistan, Khaleel resumed driving the bus. When Zimbabwe toured the country in 2015, he drove them to the stadium. Earlier this year, he was again on duty when the World XI landed in Pakistan. Now, he waits for Sri Lanka.